The ReModel for a high growth Japan based speciality-pharma company
In the latter part of 2019, a Japan based specialty-pharma company (from here referred to as 'the company'), operating in more than 30 countries across EMEA, were embarking upon a period of high growth and transformation. They recognised a different type of talent, at an increased pace, was needed to support business priorities. Quickly realising Talent Acquisition (TA) needed to stand on a different stage and take its place as a strategic enabler to the business, they reached out to Talent Reimagined.
"Without the right talent, the business can't launch new products, can't follow the business plan, and ultimately will struggle to grow." – SVP HR
A transformative journey began. A partnership striving to develop a TA operating model which would be future fit, agile, automated, integrated, efficient and streamlined.  The solution to this? Talent Reimagined applied their ReModel methodology to ReImagine, ReBuild and ReStart TA for the company, embedding this as a critical part of the overall HR organisation.
The ReModel methodology builds a transparent and commercially focused business case, applying a transformation framework to facilitate speed, structure, and governance. Delivered by a complementary team of independent consultants with deep and varied experience in all aspects of TA, the company could continue to focus and deliver on current priorities, whilst the Talent Reimagined team accelerated the transformation, bringing impacts to reality faster.
The challenge
The ReModel started with Reimagining...
What does the business need? What do we need to deliver to meet those needs?
The review of the 2019 state of TA at the company, alongside the future business priorities, highlighted a huge opportunity to implement a new strategic model of TA which would have a major impact on time, speed and quality metrics.  The critical priorities were:
1. A delivery model – designed to be future fit, deliver to hiring requirements, influence key recruiting metrics, and improve the experience for all customers of the recruiting service.
2. Best practice operations – to elevate the service, establish TA as a strategic partner to the business, provide insights on a micro and macro level, improve brand awareness, and support internal mobility and engagement.
How could we visualise this new future?
With new forward-thinking leaders in place and a huge appetite for strategic and effective change in all aspects of Talent, the company was the perfect partner with which to create the vision of a future state TA function.
Together we developed a vision of TA, focusing on brand awareness, engagement with key strategic partners, powerful insights and analytics, targeted and differentiated sourcing, standardised processes, optimised technology and a premium experience for all customers of the service, with scalability and insights being at the centre of the solution.  
We were focused on creating a best fit unique operating model, while having an eye on the future. We visualised each piece, each cog, in the machine of TA. It wasn't about the cogs in isolation, but how they worked together, how they would gain momentum and continue to create more speed and efficiency over time.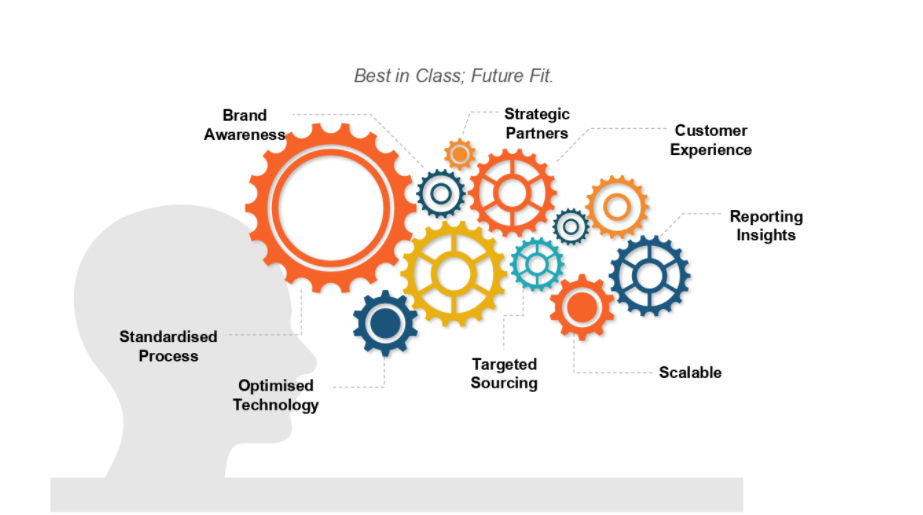 Combining our unique experience and insight, the Rebuild began...
Implementing the future TA operating model for the company required 3 critical partnerships to succeed:
1. Recruitment process outsourced (RPO) – to scale and flex, bring immediate governance and best practice to the service, as well as manage cost.  Based on the design and the chosen RPO partner, a solution was implemented which covers recruiting needs across the entire region, and has the building blocks in place to cover contingent hiring and work towards a total talent acquisition strategy in 2021.
2. A technology driven referral program – to reward employees for their referrals, leverage technology to enable and scale the process, empower all employees as brand ambassadors, and influence internal mobility.  The company identified early that not having a referral program in place meant the organisation was at a disadvantage, they engaged a partner who would do more than bring them in line with the market, it would leap over traditional methods and immediately leverage their employee base, providing them the tools literally in the palm of their hand.
3. A standardised assessment strategy – the goal was to improve the quality of the hiring process and hire to balance the hiring decision focus across both what people have done, and what they can do.  Together we designed a differentiated solution with one assessment partner, and where hiring managers are equipped with a competency and values driven custom design report. The custom report requires no interpretation and allows the manager to validate the preferences in a meaningful way through the interview process.
Technology in focus
A key focus in selecting the right partners for the company was that each could bring technology to integrate with the company's recruiting technology. Forging an ecosystem that worked in partnership, driving standardisation, a best practice experience and laying foundations for meaningful future insights.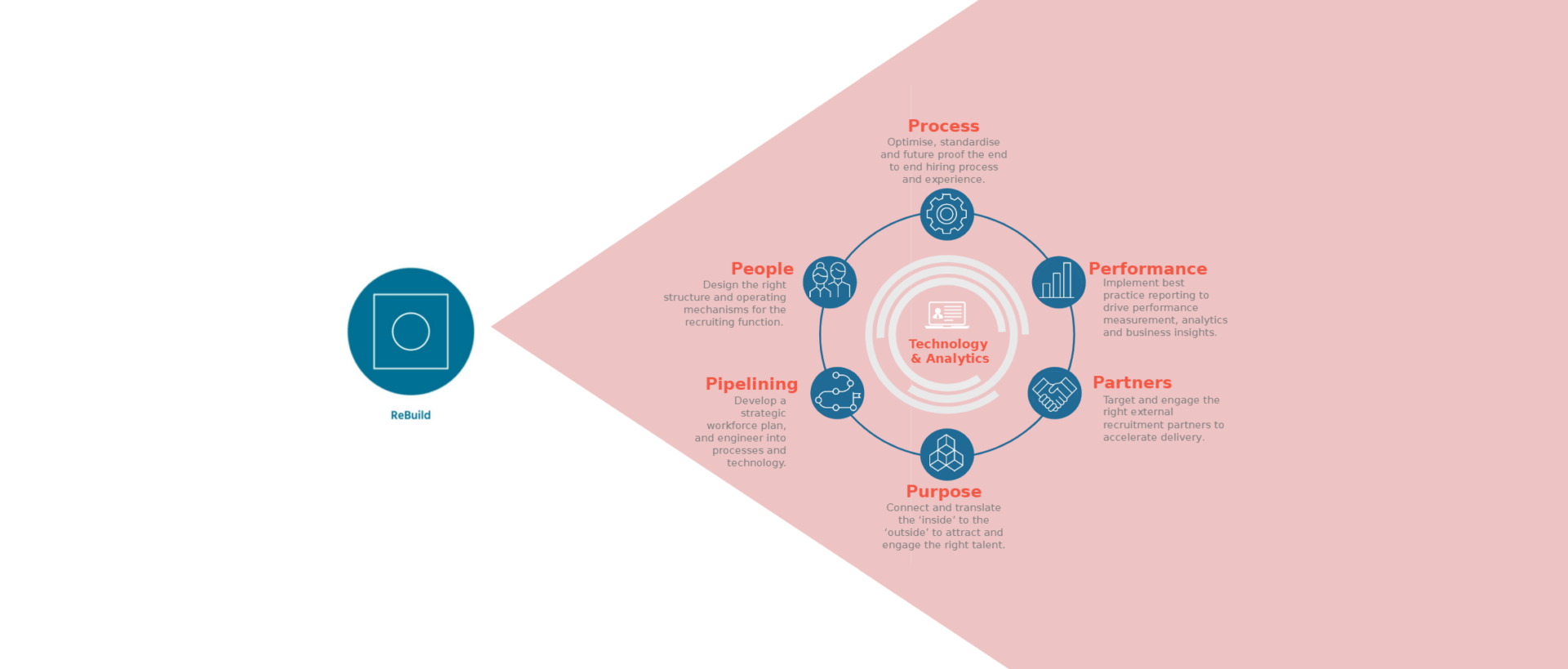 New Process: Optimised and Future Fit
Over a six-month period, the new TA solution was rebuilt to be innovative and interconnected throughout the entire hiring journey. A new region-wide best practice process was mapped, keeping in focus accountability, effectiveness, efficiency, and technology. The result was regional standardisation which could capture country specific nuances, recording the clear responsibilities and hand off points within HR at each stage of the process.
How did these deliverables keep the company's priorities in focus?
1. Synergy: The new process provides synergy between Hiring Manager, HRBP and recruiter. The process enables managers to be decision makers, HRBP's to be strategic partners to the business, and recruiters to focus on mining for the next best talent.
2. Analytics & Insights: Working with our partners, we created the right analytics foundations, governance, and inputs to drive the right insights for the future – both for HR's evolution and for meaningful business insights.
3. Differentiation: Standardisation across the company was important but knowing when to pivot was even more critical. Processes were mapped out to deviate from the standard if not meeting specific delivery targets for key roles and positions with direct impact on the bottom line. It is process mapping, but supercharged, at speed and unique to the company's challenges and priorities.
4. Scalability: The agile delivery model was implemented to be able to scale and flex according to business needs - on demand. Through strategic workforce planning and a right size delivery model, there is ability now to quickly transition to a proactive approach to pipelining talent, with a specific focus on critical and niche profiles.
"We launched the TA model through a series of bite-sized videos – it was a great balance of providing the right level of information, in an engaging channel, and demonstrating the teams focus on innovation." Tessa James – Founder, Talent Reimagined
The company accelerated the transformation to a new operating model of recruiting by augmenting current operations with a transformation partner. 
Through this approach, impacts – both those that are quantifiable and those that are less tangible - can be felt far faster than the average transformation. The Talent Reimagined team brought their capacity and experience, implementing world class best practices, and challenging or providing an alternative version to those best practices where required, to ensure best fit.
The company swapped incremental change, for investment into a solution that would bring big impact, in minimum time.  The rewards for that foresight are already paying off.
The immediate benefits to the business:
1. Delivery model
Team: An industry experienced team is in place now to support recruiting across the entire region.  Supported by a new process, HR can now focus more on strategic business partnering, enabling hiring managers to spend less time on recruiting related activities.

Governance: With specific SLAs and KPIs in place, the delivery model is driving down agency usage, whilst driving up system usage and process consistency.  This is not only providing an improved and streamlined experience of customers of the service, but also providing credible data to feed into future insights.

Scale: The RPO model keeps the company agile. It can flex and right-size alongside business demands.  With a new delivery model in place, the shift to a proactive approach to hiring can become a reality, ensuring the right people are in the right roles, at the right time.
2. Operations
Best practices: Best practices have been brought in and adapted to fit with the company and their future.  It is robust, future proofed, and nimble.  With culture as a base, they have developed strategic partnerships with organisations who are also ready to adapt and evolve their own best practices to continue to support their growth and business goals.

Technology: The focus on technology has created automation and kept the human experience at the heart of design.  It has become a seamless experience for hiring managers, candidates, interviewers, recruiters AND partners.

Scale: The focus on automation, integration, and standardised process which can flex gives the operations enough structure to move forward with momentum and adapt when change or business need requires.
The longer-term outcomes:
There are many long-term outcomes that will positively influence the company's metrics around quality, speed and time.  Of those, the ones that will be measured and have a significant quantifiable impact are:
Outcomes
Cost per hire reduction 2021 (30%), 2022 (40%), 2023 (50%)

Referrals are projected to shift from <1% to 20% over a 3-year timeframe

Agency reliance is targeted to reduce by 60%
Through this transformative process, the company is elevated onto a different platform in the TA and HR arena. Not just because of the changes made, but because of their refreshing focus on prioritising talent, and the speed at which they pivoted, adapted, and embraced a new way of working.
The TA transformation delivered by Talent Reimagined was never a final destination – it was a leap forward to a place where talent acquisition as a team could work in synergy and strategically with the business. As the delivery model and operations evolves and gains momentum, the path ahead is full of even more opportunity…and more Reimagining.